Single-cell protein producer KnipBio is one of the registrants for the F3 Krill Replacement Challenge. The company produces a family of functional single-cell protein products based on the microorganism and leaf symbiont, Methylobacterium extorquens. Its protein fraction of the cell biomass is highly digestible and has a good amino acid profile which allows for the substitution of various other protein sources, including fishmeal. Additionally, the functional properties of the whole cell biomass constitute a differentiating factor.
"Krill is used in aquafeed as an attractant and as an immunostimulant, many of the benefits we have observed with our own product. Additionally, it is a source of functional elements including lipids, proteins, and pigments. With the exception of n-3 HUFA, our product shares all of these characteristics," said Guillaume Salze, CSO from KnipBio.
Using a proprietary fermentation technology, KnipBio's ingredient is a product of a bioconversion of non-food feedstocks to "brew" a protein-rich whole-cell biomass. To date, the company has conducted over 50 in vivo trials, covering many species including rainbow trout, shrimp, barramundi, salmon, and Kampachi yellowtail. "We have not observed a reduction in performance by animals when the ingredient is included in the feed at recommended levels," Larry Feinberg, CEO of KnipBio said.
The company has formulated feeds containing fishmeal or not, produced at research and commercial scales. "Our ingredient is incorporated into the feed mash along with other dried ingredients before it passes through the extruder. Feedback from commercial feed mills on how the product handles has been positive. There is no impact on the physical characteristics of the pellet, nor is there any indication that the manufacturing process affects attractability and palatability. This suggests our ingredient is fungible and expands the existing basket options," Feinberg explained.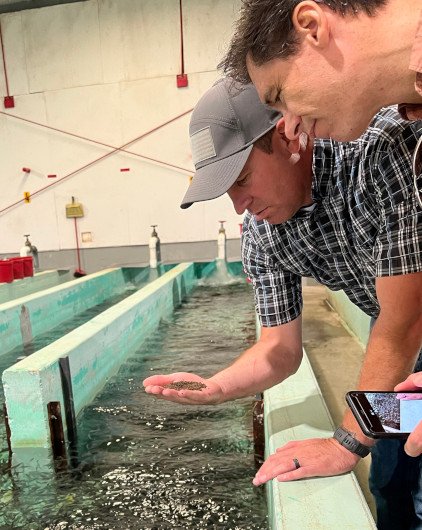 An essential consideration when evaluating the performance of an ingredient is the efficiency of fish biomass production. This can be measured in the form of growth rates but also yield of production on the farm. "Functional ingredients like ours and krill can improve the overall yield by improving survival rates by enhancing immune-nutritional responses in the animals," Salze said. "Finding alternatives to krill will be based on the potential for that ingredient to provide a return on investment with positive economic implications. Based on results from multiple on-farm demonstration trials, our ingredient indeed offers this type of calculated return and will further improve as our own efficiencies are realized at scale."
As if krill is an indispensable ingredient, they said that from a nutritionist's perspective, there is no such thing as an indispensable ingredient – only indispensable nutrients. "Our job is to understand how to best formulate these nutrients together and use the best sources through a variety of ingredients. From this challenge, we expect to show that like fishmeal, krill meal can be better described as strategic rather than essential. Diversifying our collective basket of ingredients improves the formula's resilience to market fluctuations and offers nutritionists more arrows in their quivers."
"We are genuinely delighted to participate in F3's latest challenge, an organization that has been inviting stakeholders to collaborate, challenge their own thinking and provide a road map where we can collectively drive the sector. Least-cost formulation has been an important tool but has limited additional upside. It is time to think about the economics of productivity holistically. The awareness F3 brings to our industry contributes to our broader understanding that an investment in nutrition is a downpayment to healthier and great-tasting fish, while also considering environmental and social impacts," Salze and Feinberg both concluded.
---
Aquafeed.com has been interviewing some registrants of the F3 Krill Replacement Challenge. See below.
Entobel: The attraction of insect meal
eniferBio: The power of mycoprotein
JF Nutritech: Could phytonutrients replace krill?
Stratium: Insect protein to replace krill
Symrise Aqua Feed: Land-based byproducts
Protenga: An insect-based palatability enhancer
Nutrition Technologies: A new insect-based approach
Shaivaa Algaetech: A mix of microalgae
Palmatech Product: A palm oil concentrate
dsm-firmenich: A palatable protein ingredient
BCF Life Science: A functional amino acid concept
China-based Jiangsu Fuhai Biotech Co., Ltd.: A soybean peptide
Bioiberica: Animal-based co-products
Lucta: SCPs and sensory additive