This spring marks the 50th anniversary of the first-ever successfully farmed salmon in Norway. Five decades later we look back on a story of ambition, collaboration, setbacks and successes, culminating in a fish which is now a favorite on dinner plates across the globe.
From its humble yet ambitious beginnings along the coast of Norway in the spring of 1970, salmon farming has grown into a global industry at the forefront of new technologies. Norway was the first and remains the largest Atlantic salmon farming nation, producing more than half of the world's farmed salmon along its ideally placed long coastline providing ample cold and clear waters year-round.
50 years of salmon history
1971: The brothers Grøntvedt harvest the very first generation of successfully farmed salmon. Several other salmon farms follow suit.
1973: The Norwegian parliament introduces a new law for salmon farms, to regulate fish welfare and quality. It also aims to ensure the growing new industry would benefit small communities along the coast, and not just a few big commercial players.
1970s: Norwegian aquaculture is growing at a rapid pace, approximately 40% every year between 1972 and 1975. Salmon is becoming profitable, selling at prices equivalent to up to ten times today's salmon price.
1978: Salmon farming is growing so fast that a temporary stop to new locations is introduced
1980s: There are now salmon farms along the entire Norwegian coastline, from Rogaland in the South to Finnmark in the North. Salmon from Norway is conquering the European and U.S. markets.
1981: The responsibility for the ever-growing industry is moved from the Ministry of Agriculture to the Ministry for Fisheries.
1983: With rapid growth comes big challenges. Illness is a problem for many salmon farms, and the fish farmer's sales organization establishes a joint project to work on fish welfare and research into fish health.
1986: The global sushi trend is born: "Project Japan" headed by Norwegian pioneer Thor Listhaug aims to double Norwegian exports of salmon. It marks the start of salmon in sushi – a Norwegian invention.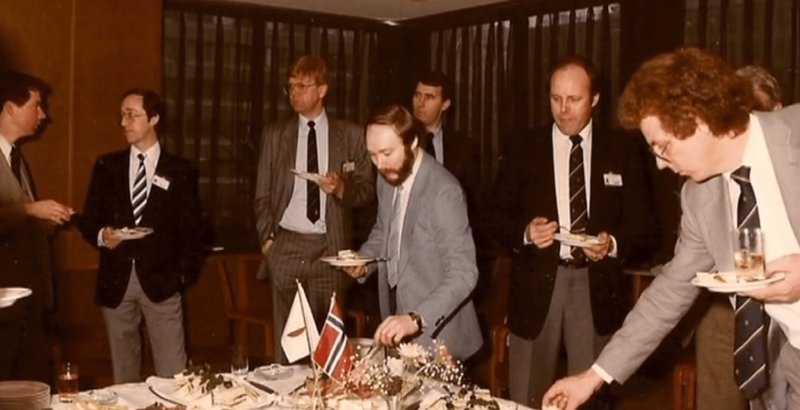 "Salmon samurais", Project Japan in 1986. Photo source: Norwegian Seafood Council.
1986-1991: Norwegian salmon exports grow 250% in this period, far exceeding Listhaug's ambitions. The introduction of salmon in sushi plays a major role, in 1980 Norway exported two tons of salmon to Japan, 20 years later the volume reached 40,000 tons.
1990: Total production has reached 170,000 tons, compared with 8,000 tons in 1980 and 500 tons in 1970.
1990s: Norwegian scientists together with the industry introduce some of the first vaccines for fish. Several new vaccines are developed making the use of antibiotics in Norwegian salmon farming almost obsolete.
1995: The number of salmon and fjord trout farming locations in Norway reaches 1,220.
2005: The Norwegian parliament passes the "Aquaculture Law", aiming to support the profitability of the sector whilst safeguarding sustainable development.
2011: Norwegian salmon farmers come together in a joint commitment to reduce escapes and salmon lice, which have been major challenges for the industry.
2015: Norway is the largest producer of Atlantic salmon in the world, 53% of all farmed salmon comes from Norwegian fjords.
2017: Technological advances are making salmon farms safer and more productive. "Ocean farm 1" becomes the world's first remotely operated ocean farm with space for up to 1,5 million salmon. The farm is equipped with state-of-the-art sensors and digital systems to control fish health and the environment.
2018: Effective vaccination programs means the use of antibiotics in Norwegian salmon farming has been reduced by 99% since 1987. Less than two percent of Norwegian salmon has been treated with antibiotics.
2020: More offshore salmon farms are starting production, representing a new era for the industry. 14 million meals of Norwegian salmon are eaten every day around the world. Norwegian salmon is the most preferred fish in the world.