French aquafeed consulting company, Halieutica, recently opened its new aquafeed testing facility in Angers, France. Established in 2018, the company helps animal nutrition companies enter the aquafeed industry through training, technical support – from concept to ready-to-sell product – and business facilitating services.
The facility
The project started during COVID-19. "Together with my wife, we decided to invest our economies to transform our garret into a small research station dedicated to shrimp nutrition. Our main clients at that time, Nor-Feed and BCF Lifesciences, were ready to pay for the first trials," Guillaume Le Reste, managing director of Halieutica, told Aquafeed.com. Data gathered in those preliminary tests enabled the company to take a step further hiring the first employee at the end of 2021 and moving to a new place nearby Angers, France.
The EUR 200,000 platform recently inaugurated is the third one adding more tanks and running bigger trials with more sophisticated experimental designs. "It also allows us to diversify our activities by building three complementary R&D rooms: one for growth, a second one for digestibility and a third on animal behavior," Le Reste said.
The R&D facility aims to test aquafeeds of all kinds and compositions. "To do so, we pay attention to animal behavior, growth, water and flesh quality. That is why we divided our facility into three complementary rooms where we can test a given feed under different protocols," Le Reste said. "Everyone agrees that you can only improve what you measure, and data collection is particularly complex in the aquaculture business. We want to do that job to support our partners in their R&D process and give them access to reliable and precise data."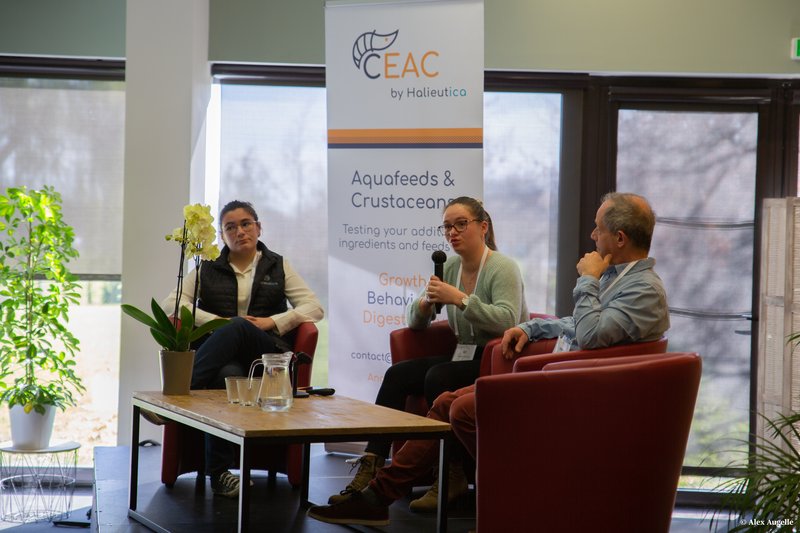 Margaux Le Gourrierec, Charline Pichon and Pascal Trintignac during the Q&A session


Success stories
At the opening of the new R&D facilities, some partners presented their success stories. Nor-Feed shared data on the impact of a feed additive on the water quality. "Apart from data related to animal growth, our station enabled them to get access to a huge amount of water samples. Samples were analyzed through different types of equipment and provided them with useful information to understand how some plant extracts can influence ammonia dynamics," Le Reste explained.
Another topic was related to the impact of lighting on shrimp behavior, presented by Charline Pichon, a PhD student from BCF Lifesciences. "Her results have led us to review our practices in depth. They also allow us to provide advice on these aspects to the breeders we meet," Le Reste stated.
A third work presented during this event was about the influence of different oils on the quality of shrimp flesh. "We recently had the opportunity to collaborate with Agrocampus to study the kinetics of fatty acids accumulation in shrimp flesh," Le Reste said.
Next projects
The development of functional ingredients for aquafeeds is the company's most demanded service. "The impact of a given formulation on growth is not the only focus anymore. Companies come with a global view of their impact on food chain sustainability," Le Reste said.
The company also wants to focus on sensor development and big data and with this new R&D station, generate valuable data that can be used to help feed formulators and farmers. "Our wish is to gather as much data as possible to better understand shrimp needs and behavior," Le Reste said. "As an independent company, we can guarantee the objectivity of our results and the transparency of our processes. This independence was the basis of our project."