Chilean Atlantic salmon farms fed with BioMar feed showed an average FCRb of 1.06 in the first ten ranked farming centers with excellent growth and high harvest weight in 2020.
Even though several factors influence, feed plays a fundamental role in farm results and BioMar Chile reported that through the implementation of its high-energy diets there has been a continuous reduction in biological feed conversion ratio (FRCb) and an increase in the growth rates in general, especially in Atlantic salmon. Specifically, in 2020 in the ten best centers fed with different BioMar strategies, there was an increase in the harvest weight of more than 400 g, together with a decrease in the average FCRb of 0.01 and a reduction in the salmon cycle of 15 days, approximately, compared to 2019 results.
In 2020, four companies reached an FCRb equal to or less than 1.1: Australis, Blumar, Cermaq and Multiexport Foods. Among the ten farming centers with the best results of 2020, six centers belong to Australis, one to Blumar, two to Multiexport Foods and one to Cermaq.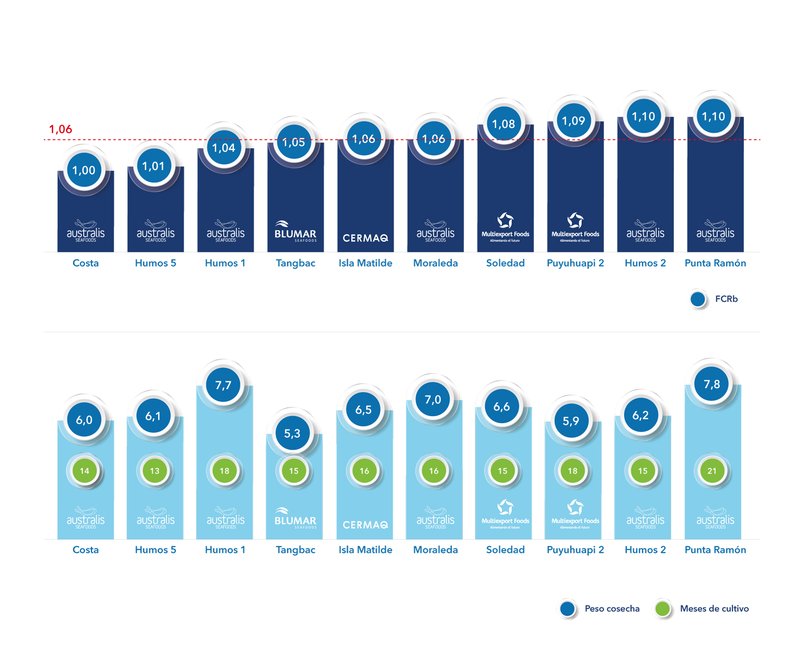 Farmer of the Year BioMar 2020
"Although there were ten Atlantic salmon farming centers with very good results in 2020, two Australis centers stood out and received the distinction of Farmer of the Year BioMar 2020: Costa in Aysén and Punta Ramón in Magallanes," said Eduardo Suazo, BioFarm manager of BioMar. "We have been working very closely, despite the distances this year, and we have been witnesses and part of the challenges that 2020 brought us, so we believe it is doubly meritorious that we have obtained these good results this year."
"This fills us with pride as a team and a company. Without a doubt, the work carried out by each of the collaborators of these centers has been outstanding, especially in 2020 when our production system has been challenged even more. Key to good performance are the highly trained, committed and motivated professionals, however, nothing would be possible without the support of the different areas of the company, especially the feed team that plays a fundamental role in our production strategy, including high-performance, balanced diets and good animal welfare practices," said Cristian Sauterel, Australis production manager.