Agrifoodtech startup MicroHarvest has been named the winning innovator for its response to the challenge of Building a net-zero food production system by a panel of expert judges at the 2023 BloombergNEF (BNEF) Pioneers Awards.
With competition from almost 350 applications received by the BNEF, the Hamburg-and-Lisbon-based company proved its credentials amongst worldwide peers by offering a novel, scalable and competitive solution to tackling the challenge of building towards a net-zero economy.
The technology
MicroHarvest uses a proprietary technology that leverages biomass fermentation to produce protein ingredients. "What makes our technology unique is its ability to achieve scale at unprecedented speed, while maintaining a high nutritional profile in our ingredients. Since we use agricultural byproducts as feedstock for our microorganisms, our ingredients require hundreds of thousands of times less land and resources, compared to, for example, beef-derived protein," Katelijne Bekers, CEO of MicroHarvest, explained to Aquafeed.com.
This proprietary technology enables production at a speed and efficiency that far exceeds other existing approaches, Bekers stated. The result is quality protein ingredients that can be produced within 24 hours from input to output. Possible applications along the whole protein value chain are manifold, ranging from animal feed to direct application in food.
The product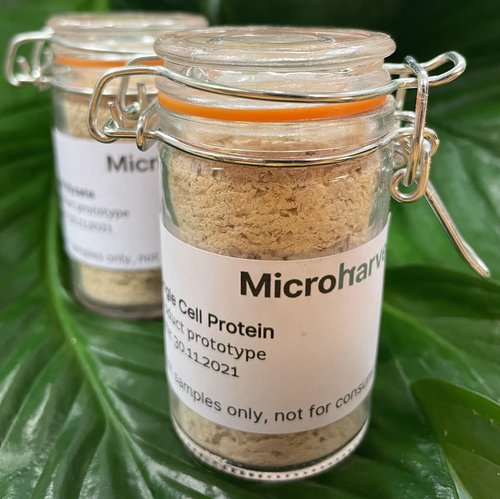 The final protein ingredients include over 60% raw protein, plus natural minerals and vitamins. "The amino acid profile of our ingredients is comparable to what you would find in next-best alternatives to animal protein – but we can produce at scale, faster and in a more sustainable way," Bekers said.
The company has already run a trial replacing fishmeal in shrimp feed with positive initial results. "It is a bit early for us to express final findings, but initial observations are very encouraging and we're running more tests," Bekers said.
The company has scaled to a production rate of 300 kilograms (661 pounds) per day, "a remarkable result for a company that is only two years old," Bekers said. MicroHarvest is now working on the regulatory approvals for its products and will hit the market within the next year.