Australian-based biotechnology company, Provectus Algae, aims to produce microalgae-based products for a wide range of industries and applications, including animal feeds. Aquafeed.com talked with Chris Fisher, scientific affairs manager at Provectus Algae, to get more insights on the company.
The idea
The company's origin stems from founder and CEO, Nusqe Spanton, and his experience in the aquaculture industry, particularly in pearl oyster farming. For ideal growth and performance, pearl oyster species require specific microalgae in their feed. Some of these species were difficult to grow, so Nusqe spent significant time researching their unique culture behaviors.
Viewing the outsized carbon footprint of the manufacturing industry, Nusqe determined he could put his skills to greater use by building a platform for algae-based biomanufacturing. "Experiencing the challenges of growing microalgae species at scale firsthand, Nusqe knew that product developers would need a complete commercial solution to lower the barrier to entry. In 2018, Nusqe founded Provectus Algae to do just that," Fisher said.
The technology
Provectus Algae's technologies center around an end-to-end biomanufacturing platform, which programs photosynthetic microalgae species to turn CO2 and light into valuable bioproducts. Through a multidisciplinary team, the platform combines the strengths of advanced multi-omics, automation, machine learning, and synthetic biology to identify and develop bioprocesses that generate high-value compounds for partners. "Though other microalgae companies exist, they don't offer a complete program that can go from concept to market for such a wide range of species and target products," Fisher said.
At the heart of the platform lies Provectus Algae's Precision Photosynthesis™ technology, that quickly determines ideal light conditions for growing microalgae species and allows the characterization of the full metabolic diversity of novel species and exploring their commercial potential.
"In addition, we can also use Precision Photosynthesis to manipulate gene expression to our advantage. The many photoreceptors and photosystems of microalgae regulate and control gene expression based on available light. Thus, we can tune light recipes to upregulate both natural and recombinant target genes while down-regulating problematic by-product expression," Fisher said.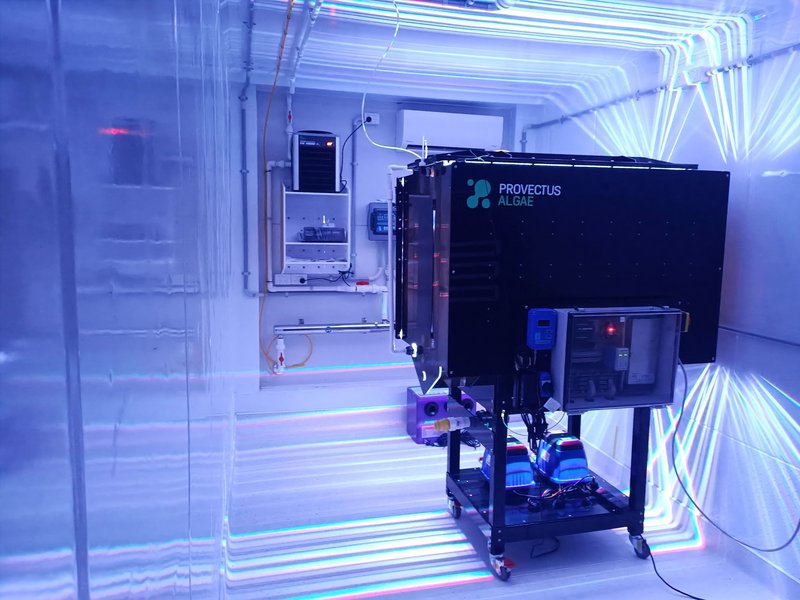 A photobioreactor in a modular production unit
Applications in aquafeeds
The platform holds potential for the aquaculture sector, especially as it relates to high-performance aquafeeds. Provectus Algae is working with Abigail Elizur, Ph.D., Professor of Aquaculture Biotechnology and Director of the Centre for Bioinnovation at the University of the Sunshine Coast. The company sees applications in two categories, based on either natural or synthetic biology.
In the natural category, the company can help partners select ideal species for their needs and develop bioprocesses to grow them. "If a specific metabolite improves growth or quality when delivered in the feed, we can also use Precision Photosynthesis™ to upregulate its expression. Thus, we provide a means to generate ideal microalgae biomass for feeds," Fisher explained.
In the synthetic biology category, Provectus Algae can engineer specific algae to express peptides, proteins, and other biomolecules known to protect animal health and improve productivity. "We've been developing microalgae that express recombinant gene products which enhance aquacultural species growth and development," Fisher stated. This program remains in the R&D phase and the company aims to perform validation studies of this approach in animals this year.
Provectus Algae is also exploring the use of the platform for producing and delivering animal therapeutics.
The business model
The company operates from a partnership model for product development. "Usually, a partner approaches us with a specific need. From there, our R&D team explores the potential of microalgae to fit that need," Fisher explained. "Assuming we carry the project forward, we develop the bioprocess needed to manufacture the target bioproduct in microalgae and reach an MVP. Following pilot production, we license the process and our biomanufacturing technologies so our partners can either build their own manufacturing capabilities or contract a CMO with our expert guidance."
Provectus Algae currently has an R&D and a pilot production facility – which it's renovating to reach 18,000 L of GMP production capacity – and is nearing the completion of a large manufacturing site and demonstration facility with a 200,000 L capacity to be operational in 2023.
CJ BIO recently invested in Provectus Algae providing the company with additional funds to accelerate commercialization efforts that bring innovative specialty ingredients to market. "We want to build a highly collaborative relationship that combines our sustainable biomanufacturing technologies for animal health and nutrition products," Fisher said. "In the long term, we want to continue developing our commercial relationship with CJ BIO to access the significant expertise they have built as a leader in the biomanufacturing sector."
Looking forward
The company expects to see rapid growth in its operations, particularly as it continues to expand its microalgae library and Omics database. "We have already detected many valuable characteristics and metabolites in the species we are bringing online. As the pace of biodiscovery accelerates thanks to AI and automated workflows, we expect our platform's applications to skyrocket," Fisher said.
Simultaneously, Provectus Algae is looking to grow its production opportunities in the USA, Europe, and further into APAC over the coming years. "With customer demand for high-performance, sustainable, bio-based materials growing rapidly, we see many opportunities to provide leading solutions in aquaculture and the broader life science sector," Fisher concluded.