Eco Aquaculture Asia is a land-based RAS fish farm operating out of Phuket, Thailand and has now spread its wings into Nha Trang, Vietnam. The company operates a hatchery, nursery and grow-out facility where they culture six different species of groupers, barramundi, snappers and shrimp. Eco Aquaculture Asia was born more than a decade ago by scuba diving enthusiasts with the goal of finding a viable and sustainable solution to the depletion of the ocean's resources. The main goal was (and still is) for aquaculture as an industry to replace the need to take fish out of the ocean, not only for human consumption as seafood, but also as fish feed.
In collaboration with the insect production company Protix and their in-house aquaculture nutritionist, the company has been testing for over the last 12 months with a 100% marine fish-free feed in the brown marbled and the hybrid grouper. The tests were done on their own hatched fry, and the groupers were grown out all the way to market size. Fishmeal, fish oils, krill and squid meal were replaced by Protix's Black Soldier Fly (BSF) larvae meal, ProteinX, other high-quality terrestrial animal proteins (primarily poultry), plant proteins, marine algae powders, and marine algae oils.
The results showed that not only the growth and weight gain in fish fed on the fish-free diet were similar to those fed on traditional diets, but also faster growth was achieved in some trials. Feed conversion ratios (FCR) were equal to, or better, than those fed on control diets.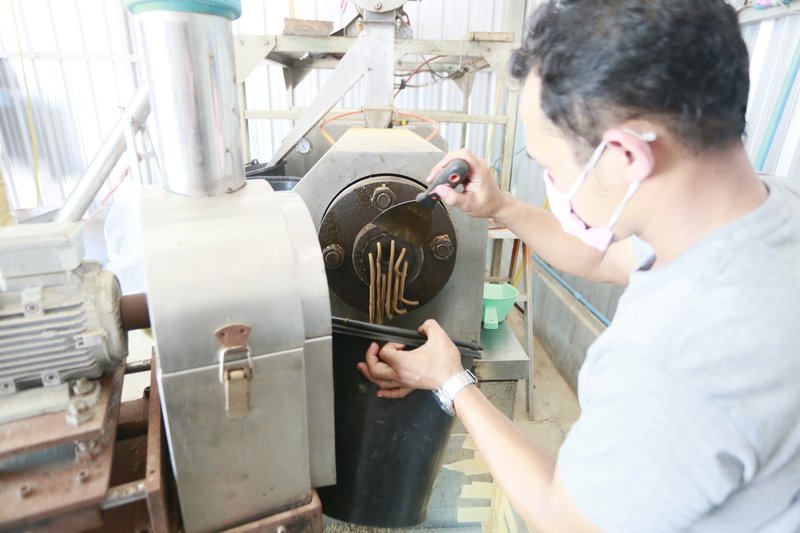 10mm die plate inspection and examination of the quality of the extruded pellet consistency prior to cutting and processing.
How does the cost of 100% marine fish-free feed compare to that of traditional feeds?
As with all products, the bottom-line matters. In the beginning, the cost of the 100% marine fish-free feed produced in-house was almost double to that of the commercially-produced traditional diet. Costs for small quantities are always higher compared to bulk purchase of raw ingredients. Now that the trials are complete, the company has more accurate results on FCR and growth performance and has been able to drive the cost of their 100% marine fish-free feed down and made it more accessible and attractive for the company (and other aquaculture farmers) to use. Eco Aquaculture Asia encourages everyone to replace the traditional fish diet with their 100% sustainable and fish-free feed.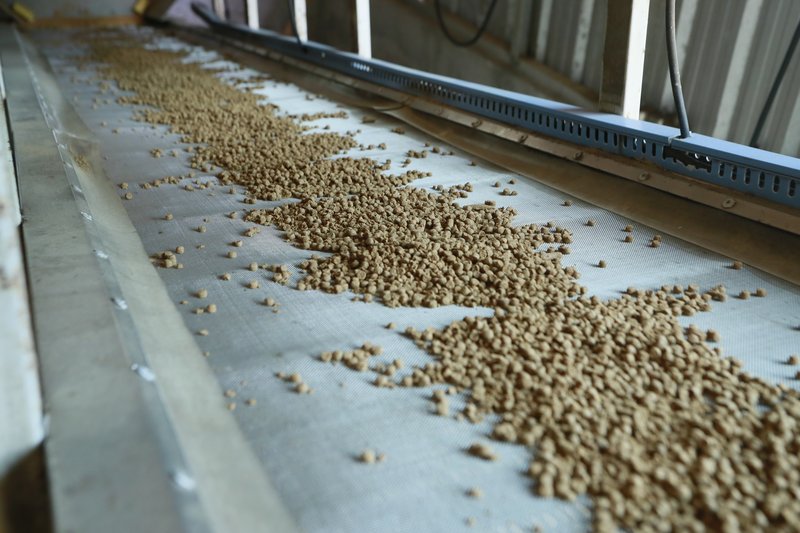 Cooling conveyor with 5mm extruded pellets, post-oven-drying, and pre-vibrating sieve size sifting.
What's next?
With the use of this 100% sustainable fish-free grouper feed, the company achieved an important milestone for the environment and aquaculture as a whole. Eco Aquaculture Asia is currently testing several new formulas for shrimp, and within two weeks these shrimps will reach market size. But so far the results are equally promising.
More information: info@ecoaquaculture.asia