The Ecuadorian shrimp sector announced a serious contraction in its production and exports as a result of the market crisis and reduced demand. The announcement, which was made together with the Minister of Production, Foreign Trade, Investments and Fisheries, Iván Ontaneda, also highlighted that the country's shrimp industry did not experience such a profound price crisis in more than a decade. Shrimp farms register a drop in production in hatcheries and ponds and farmers are decreasing densities to avoid greater economic losses that lead to layoffs of the personnel.
The drop in production is a reality that is reflected in the June exports that had a deployment of 16,700 tons compared to the month of May. China, which is the main destination for Ecuadorian shrimp exports (62%), also registered a drop in demand. According to the National Aquaculture Chamber's projections, the contraction will be more acute in July since only 36,300 tons would be exported with almost no exports to China.
The Ecuadorian shrimp sector is responding to new demands immediately. PCR analysis of packinghouse personnel has become widespread, as well as the reinforcement of biosafety measures in the areas of packaging material and containers. This responds to the Chinese Customs authorities' demand to improve biosecurity processes in the new global context.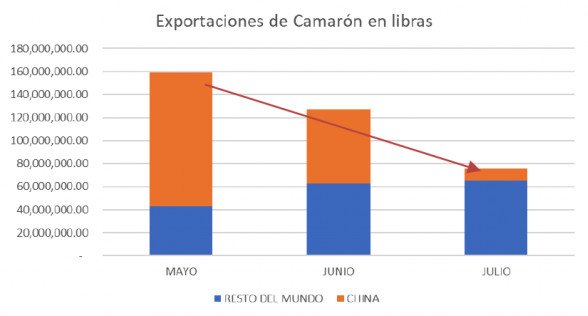 Source: Cámara Nacional de Acuicultura.