Skretting Chile awarded Marine Farm, Mowi, Australis and Caleta Bay as 2019 Skretting Top Centers with best results in Atlantic salmon, rainbow trout and Pacific salmon.
"2019 results show a high-quality work among each production company and our technical teams, who strive to reach our clients' production objectives in terms of performance, costs and quality, using our nutritional solutions and associated services. These results reflect that, through a close collaborative relationship with our clients, it is possible to continue strengthening and leading the development of the Chilean industry and its role in salmon production worldwide," said Rodrigo Sinn, Skretting's commercial and marketing manager.
Results of the best Pacific salmon farms
Marine Farm was the company that achieved the best results in Pacific salmon in its Capeahuapi centers in the X region and Krauss in the XI region, which shows that this species can continue to maintain outstanding performance with figures that manage to reach FCRb close to 1.0 and harvest weights of more than 5.0 kg. Both center's feed strategy was based on high-energy diets.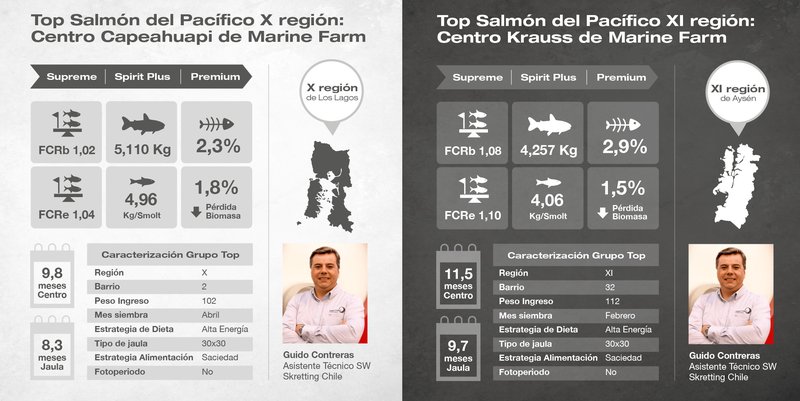 Results for top rainbow trout farms
Caleta Bay in the X region and Australis in the XII region were the companies that stood out in the rainbow trout farming in 2019.
As in 2018, the Punta Iglesias center in Caleta Bay achieved extraordinary productive results, reflecting continuous improvement and a team that has consolidated its leadership in this species.
In the XII region, Skretting awarded Goddard de Australis as 2019 Top Center in rainbow trout. With a FCRb of just 1.05, this center demonstrated excellent performance, reaching a harvest weight of over 4 kilos.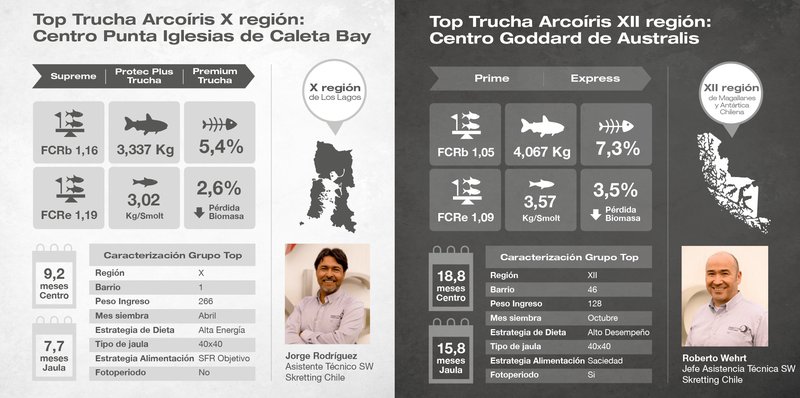 Results of the top Atlantic salmon centers
Mowi and Australis obtained the award for 2019 Top Skretting Centers in Atlantic salmon with Mowi's Alao Sur center in the X region and Australis' Rabudos in the XI region.
The Alao Sur center of the Mowi company showed an average harvest weight of 5,852 and an FCRb of 1.07, figures that positioned it as one of the best Skretting centers in Atlantic Salmon. The center's feeding strategy was satiation feeding and the use of high-energy diets.
The 2019 Top Skretting Center Award for Atlantic salmon in the XI region was obtained by Rabudos de Australis with a low biological and economic FCR and a harvest weight of over 6 kg. The feeding strategy was the same as the Mowi one but this is the only Top Skretting Center in Salares that used photoperiod.