Skretting recently opened its Aquaculture Innovation Guayas Research Station in Guayaquil, Ecuador. Aquafeed.com talked with Cesar Molina, general manager of the center, to discuss what the company's plans are at this center.
The facility
The area allocated to Guayas Research Station is around 10,000 m2. It will include fully equipped analysis laboratories and state-of-the-art experimental units to carry out tests under controlled conditions. In addition, there is a battery of green water tanks that will allow studies simulating conditions in the field to have maximum applicability in production conditions.
Another important part of the center is the Bubble laboratory, which specialized in research and aquaculture services. The services offered are physicochemical analysis of water and soil and analysis of diseases, among others. The laboratory facilities are divided into four different areas, bacteriology, biotechnology, physical chemistry of water and soil, and feed.
"With an investment of USD 6.1 million, this station will be one of the most advanced, where 30 top-level professionals and technicians work together with a global Skretting network made up of 40 researchers of 25 nationalities and collaborations with around 60 research organizations. The objective is feed innovation for more efficient and sustainable production," Molina said.
What makes this center different from other existing ones, is that it contains state-of-the-art technology that allows great flexibility in different culture conditions, such as salinity, temperature and oxygen, among others, Molina explained. "A large number of experimental units and various sizes allow each treatment to be replicated, something that no other organization in the world dedicated to studying shrimp nutrition and feeding has. In addition, there is a battery of green water tanks that will allow studies to be carried out simulating conditions in the field to have maximum applicability in production conditions," Molina stated.
The new center is located next to Skretting's feed mill. "One of the advantages of having the feed production factory next to it is having better logistics, support in case of eventualities, and support from the different departments in administrative and security matters. In addition, due to its location, it is much more accessible so that producers can get to know what we do," Molina said.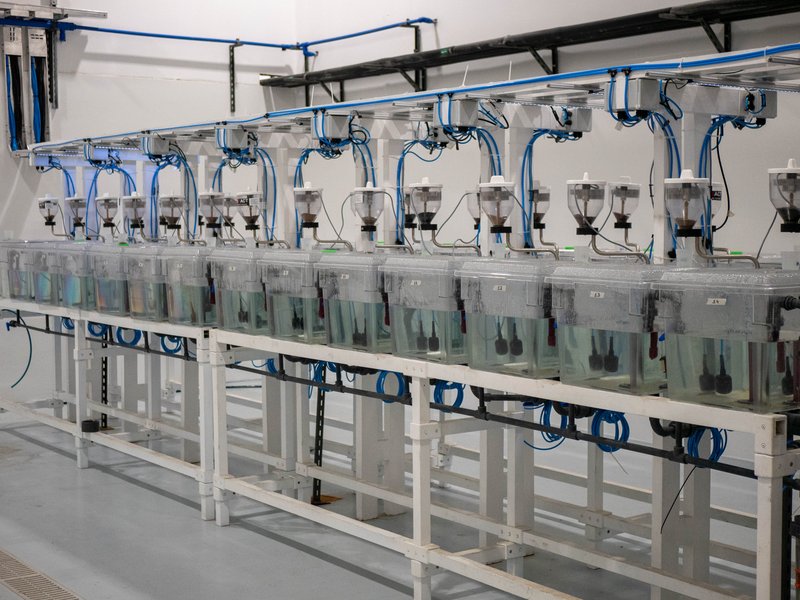 Research lines
The center will work on L. vannamei stages, from larval and juvenile stages to adults, on physiological and immune responses as well as growth and survival. The systems are designed to perform digestibility studies on raw materials or balanced feed. "We will look for differentiating and sustainable raw materials and ingredients to obtain feeds with lower environmental impact and lower carbon footprint," Molina mentioned.
The center will also develop projects to reduce nitrogen and phosphorus loads in shrimp production through feed, now that more shrimp are being produced. Other research lines include the optimization of feed formulation for more cost-efficient shrimp production.
In terms of health, studies will be focused on simulating optimal conditions in which the species develops and exposing shrimp to extreme conditions to study how certain nutrients or molecules can mitigate the stress that causes shrimp to be more susceptible to the presence of opportunistic pathogens that affect their survival.
Skretting recently acquired full ownership of India-based pond manager startup, Eruvaka. At the research center, the company aims to improve feeding management through Eruvaka feeders. "There are some points where feeders can increase efficiency starting at nursery stages supplying feed on the demand and with a precise shrimp biomass estimation at the same time," Molina explained.
Hatchery developments
Skretting has been partnering with Hendrix Genetics in the development of genetic programs over the past few years. "The continuous improvement of the genetic lines at Hendrix Genetics drives us to develop feeds that meet the new nutritional needs for the development of the industry. Providing proper nutrition adapted to the shrimp growth rate will maximize their genetics. In this way, we will contribute to shortening the shrimp production cycle and thus contribute to increasing the annual production volumes or allow farmers to offer larger shrimp produced in the same period of time," Molina explained.
Shrimp farmers in Ecuador are demanding larger post larvae that grow faster. "Skretting is working on having a greater feed acceptance and digestibility that is supplied in the larval phase in order to have a more robust shrimp in the on-growing stages," Molina said.