The latest issue of the EUMOFA Monthly Highlights presents a review of fisheries and aquaculture in Norway in a case study. Since the first commercial salmonid farming began in the 1970s, aquaculture has become an increasingly important industry for Norway. The primary species farmed in Norway is Atlantic salmon, followed by (ocean-farmed) rainbow trout. Of the total production volume in 2018, Atlantic salmon accounted for 94.6% and rainbow trout for 5%.
From 2016 to 2019, Norwegian fisheries and aquaculture exports rose by 8% in volume and 10% in value. The main species exported from Norway is salmon. In 2019, exports of salmon exceeded 1.1 million tons at a value of €7,34 billion. This represents an increase of 15% in volume and 11% in value from 2016. The highest export share to the EU is recorded for fishmeal with 84%.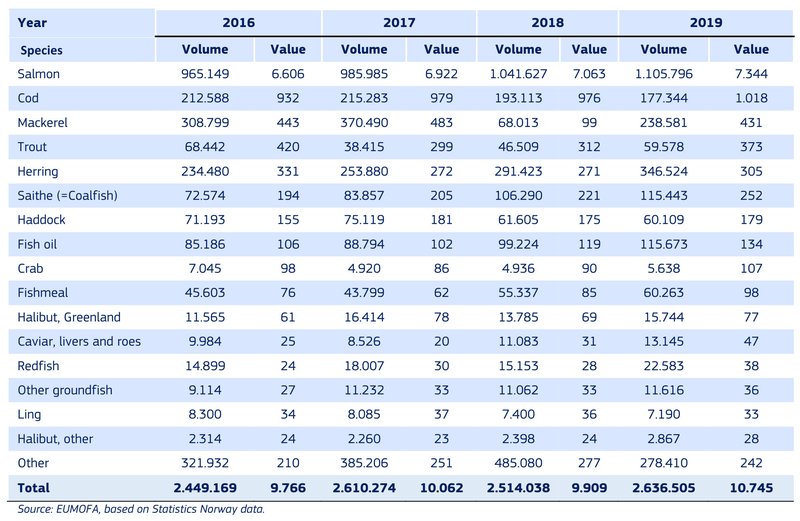 Norwegian exports of main commercial species (volume in tons and value million €).
Although Norway is a net exporter of fisheries and aquaculture products, its large aquaculture industry has made the country dependent on imports of fish feed ingredients, particularly fish oil. From 2016 to 2019, Norwegian imports of fish oil increased by 14% in terms of volume and 5% in terms of value. While fish oil is still a vital component of fish feed, the share and amount of fishmeal used for fish feed has declined over the last decade as fishmeal has been increasingly substituted with alternative (plant-based) protein sources. From 2016 to 2019 import volume of fishmeal dropped by 18% while value dropped by 15%. In 2019, a large part of fish oil imports came from Peru (30% of the import volume) and Denmark (21%). In imports of fishmeal, Denmark and Iceland were the main trade partners with import shares of 36% and 33%, respectively.

Norwegian imports of main commercial species (volumes in tons and value million €).
The report also presents a review of the first sales in Europe over the 36-months from January 2017 to December 2019. The average first-sales price of European seabass in France was 15,13 €/kg. This was 10% more than the first-sales price of European seabass in Portugal (13,74 €/kg), and 6% more than the price in Spain (14,30 €/kg).
Download the report here.