Scottish biotech company MiAlgae has launched its omega-3 product NaturAlgae to market thanks to the recent expansion of its commercial production site in Scotland. The company recycles the co-products from the Scotch whisky industry, like pot ale, as a feedstock to grow omega-3-rich microalgae which can then be used as a nutritious fish feed and pet food ingredient. Following the installation of eight new bioreactors to the north of Glasgow, MiAlgae will soon be producing hundreds of tonnes of nutrient-rich omega-3 powder per year.
NaturAlgae is a dry powder with a high concentration of DHA and other oils which can be added to recipes for pet food and aquafeeds, providing the well-known health benefits that omega-3 provides. This is the beginning of an exciting new phase for MiAlgae, which has headquarters in Edinburgh, as it continues to develop commercial relationships with customers across the pet food and aquaculture sectors.
With final commissioning underway, the vessels will enable MiAlgae to boost production capacity almost immediately with a growing waiting list of customers. "This expansion of our commercial production site marks a huge milestone on our journey to champion the circular economy. With the addition of our new equipment, we are now able to take our product to market at a meaningful scale with significant headroom to grow," said Douglas Martin, MD and founder at MiAlgae.
Using the outputs from a single distillery, MiAlgae's technology has the potential to save 80,000 tonnes of CO2, recycle 14.4m liters of water and protect tens of thousands of tonnes of fish annually.
Earlier this year, MiAlgae announced its partnership with Falkirk Distillery to drive forward a greener and more efficient whisky industry. The agreement will see Falkirk's whisky co-products transported to MiAlgae's site where they will be used in MiAlgae's processes.
"We're committed to scaling quickly and have plans to work closely with a number of distilleries across Scotland where we can co-locate MiAlgae's technology with the distilleries, creating an on-site water recycling solution for the distillery, and a greater production capacity for MiAlgae. This will allow us to expand rapidly and make a very real stride towards the sector's environmental goals," said Martin.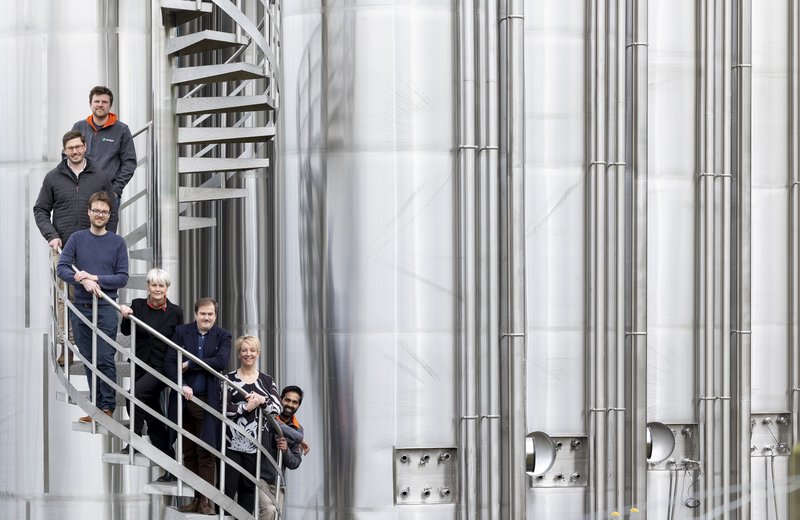 Top to bottom: Ben Horton, Douglas Martin, Jamie Gilman, Johann Partridge, Scott Parker, Polly Douglas, Shreekanth Ramananthan


Increasing the team
To help drive its planned expansion, MiAlgae has appointed Polly Douglas as business development manager. Polly joins the company with strong expertise in aquaculture and nutrition and recent experience in the biotech startup world. She joins MiAlgae from gas-fermentation company, Deep Branch Biotechnology Ltd. where she was responsible for managing a portfolio of multi-million-pound grant-funded projects. Previously Polly managed funding for several industry-lead research projects when at the Sustainable Aquaculture Innovation Centre (SAIC) in Stirling.
"Having 20 years of experience ranging from innovation management, nutrition and aquaculture, this role helps me consolidate my expertise and support the commercial activities at MiAlgae," Polly said. "Joining at this exciting time, as production is increasing and our technology is proven, it's great to be able to get out there and engage with customers. My role will be to identify strategic partners and future development opportunities, as well as develop an understanding of additional products in as yet unidentified markets."